Girl's Friendly Society

At the GFS Diocesan cookery competition held in the South West College, on Saturday 17 November 2012, we had two girls representing the Branch. Victoria White won 1st prize in the 7-9 section with her decorated sponge cake and Chloe Elliott was highly commended for her filled flan case. Congratulations to both girls and thank-you for being so willing to compete.
At Evening Prayer on Sunday 18 November the Rector conducted the GFS Enrolment Service. Nine girls were enrolled in their respective age groups. The girls took part in the service by singing three action songs, saying the prayers and taking up the collection. Two senior girls, Shannon Scott and Alexandra Palmer read the lesson.
2011 News
GFS has just completed another year, with girls from Magheracross Branch attending the Diocesan 'fun night' which was hosted by Fivemiletown Branch. There was music, fun and games, hot-dogs and juice were provided. This was a very enjoyable event and a good time was had by all. This year again, Magheracross girls were successful in gaining prizes in the Diocesan competitions.
In Handcraft, Bethany Veitch (5-7) came 3rd, Louise Quinn (9-11) came 2nd and Shannon Scott and Alexandra Palmer were Highly Commended.
In Bible Study, Nicole McCordick (5-7) came 3rd, Olivia Weir, Alice Dunne and Abbie Barrett (9-11) were Highly Commended and Jasmine Forster (15-18) came 3rd.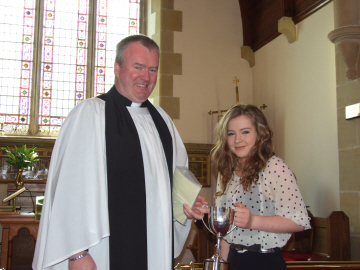 We want to make a special mention of Shannon Scott (13-15) who was awarded 1st Prize in the Diocese for her Bible Study. This enabled her work to go forward to be judged in Dublin and she has won 1st Prize in All-Ireland in her age group. Shannon has been awarded the 'Maeve Farror Bible Study Cup' and also a certificate and a plaque for her to keep.
Congratulations and well done to Shannon and also to all the girls on their achievements.
November 2011 News
Many thanks to everyone who came and supported our fund-raising sale in October. The amount raised was £650.00. On Remembrance Day girls and leaders joined in the parade to the Parish Church, with Alexandra Palmer and Jill Hamilton laying the wreath on behalf of the Branch.
We wish to thank the girls who represented Magheracross Branch at the Diocesan Cookery Competition held on Saturday 19th November in the South-West College, Enniskillen. In the 7-9 section, Ruby Gallagher was awarded 2nd prize for Savoury Kebabs. In the 9-11 section Louise Quinn was Highly Commended for Tuna and Pasta Salad. Congratulations and well done to both girls.
On Sunday 20 November our Enrolment Service was held in the Parish Church at 7pm. A very enjoyable service was conducted by Rev Charlie Eames. GFS members took part in the service by reading the lessons, singing 3 songs, saying the prayers and lifting the collection. Well done to all who took part.
GFS End Of Year News 2011
Magheracross GFS Branch held their Prize-giving and Parents Night in the Archdale Hall on Tuesday 17 May. There was a good attendance and Rev Chris Matchett opened the evening with a warm welcome, led the prayers and introduced the hymns. The girls all went on stage to sing three praise songs.
Frances Johnston very kindly read out the Annual Report for 2010/2011. Mrs Patricia Beare, a former leader, presented the awards and cups to the girls and congratulated them on their achievements throughout the year. Afterwards, Patricia was presented with a bouquet by one of the younger girls.
After the Grace and the final hymn, a lovely supper was served by leaders and helpers. This ends GFS activities until September.