Magheracross Parish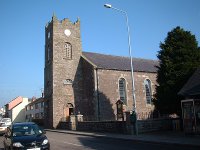 The parish takes its name from the townland of the same name which is situated 1½ miles on the Omagh side of the village. It was here that the original church was situated but was burned during the post reformation strife (1539). The old graveyard still exists and is in a reasonable good state of preservation and contains some interesting headstones:
One such headstone is that of Denis McCraner (died 1690) reputed to be a farier in King William's Army as they travelled south from Derry to the battle of the Boyne.
Another is that of Margaret Elliott - popularly known as Orange Peggy, Queen of Trasna, died 1891 aged 108. She was a charismatic raconteur and her home was a meeting place for all creeds and classes as they flocked to her with their troubles. She was rich with her advice and help and also rich in entertainment. Her passing was regretted not only by the protestants of Fermanagh but by all classes who respected her generosity.
Among the old headstones in the graveyard are some with inscriptions in Gaelic.
The new church was built in the village of Ballinamallard (1785) - a more central location for the congregation at the time.
In 1844 the church was rebuilt retaining the tower of the original church which remains to the present.
In 1904 thanks to the generosity of Miss Archdale the Chancel and Romanesque Arch at the front of the Church was added.
In 1993 A new Parish room was added to the north side of the building providing additional facilities for an expanding parish.
In 2001 the parish was rocked by the loss of Bertie Fisher, his son Mark and daughter Emma in a tragic helicopter accident.