Rota for Multimedia
Rota for Multimedia operators to 28th December 2014 can be downloaded
Mother and Toddler runs every Tuesday from 10.30 am - 12 noon during school term. Everyone welcome, mums, dads, granny's, granda's or childminders.
Choir Practice will take place at 7.30 pm on Wednesday evening. Any new members are always welcome.
Lunch Club continues each Friday. Please contact Iris Hurst to book your lunch 07970631135.
Prayer Points
Sophie Robinson (and her family) as she undergoes her discipleship training at YWAM in Perth, Australia.
Our link missionary Karen Salmon.
Ronnie & Maggie Briggs as they prepare to go to Kenya in the New Year.
Parishioners who are ill or in any kind of need and those who mourn.
Christian unity and witness especially here in Ballinamallard.
For David and his ministry to the young people in Ballinamallard.
An end to the Ebola crisis
Verse of the Day
Rector's Diary
Hopefully this will be a week to tie up all the loose ends before Christmas! Tuesday night is an exciting one for the football fans with the cup semi final at Ferney. If I get really cold at that, it will prepare me for Wednesday's sit out when John Beacom and myself look forward to spending alot of time together and enjoying your company too. The choir will join us at 7:30 pm for some carols.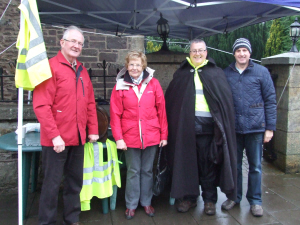 Thursday is the primary school nativity in church and then we'll try singing in the evening around a few homes. We can usually only manage 6-7 homes around the village so don't be too disappointed if you don't see us. We'll be starting on the Makeny Road and finishing on the Enniskillen Road. We might make Ferney.
There are more carols on Saturday after the game at Ferney Park. Have a great week.
Mary and Joseph's travel is available for you to choose an evening to visit your home or work place. Please sign up and make a note of who is before you and after you in the list! In case of any problems, contact Heather at the rectory.
Youth Announcements
Our first YLP of 2015 will take place on Sunday 4 January at 7pm in Magheracross. We'll return to our study of James with Kirsty Lynch as our speaker, and our talented young people will lead worship. Put it in your diary!
Youth Club returns on Friday 9 January 2015, shortly followed by Youth Fellowship on Sunday 11. Anyone in Year 8 and above is extremely welcome to come along!
Bereavement Journey Course
Starting 14 January for 5 weeks on Wednesday nights at 7.30 pm Methodist Church Hall. Working through grief and the loss of a loved one takes a long time. The course is for any person who is bereaved, whether recently or dating back several years. Based on Christian principles, the course is suitable for anyone with or without a Christian faith. Attendance is not advisable for those who have been bereaved within the past three months. More information to follow in January. Tel Heather 07708096377
Men's Breakfast
We intend to hold a Men's Breakfast on Saturday 17 January 2015. Guest speaker will be Reverend James Boyd from Dromore. Further details to follow.