Sophie's Guatemala Trip
This summer I had the privilege to be a member of a team of 11 travelling from Ireland to Guatemala to work with the Methodist Church and Christian Aid. I can confidently say the 2 weeks I had on that journey have inspired and changed me.
I heard of this trip to Guatemala from Gillian Best who was a Group Leader at a Holiday Camp in Castlewellan that I attended with our Youth Fellowship last summer. I had been waiting for the opportunity to go on a missionary trip abroad so when I heard of this venture I immediately began googling for more information and filling out the application form.
I was set the challenge of raising £1650 to cover the expenses of the trip / building materials etc and this seemed a tough task. However I was proved wrong and I was touched by the generosity of a great many people. I started off with a bun sale for 2 days in school followed by a coffee morning at home so my mum and I were baking for weeks in advance. The local Bowling Club also held a 'Fun Bowls' tournament to raise funds which as well as being profitable helped to raise the profile of my trip. I thought it would be a hard battle to achieve my target but instead I was amazed by the generosity and willingness of many to help. I ended up with a surplus which I was pleased to leave with the church in Guatemala to distribute where they thought best.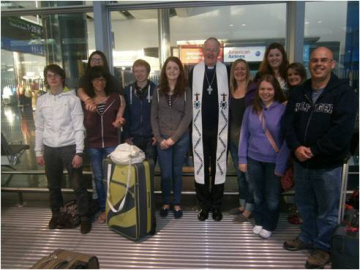 We started our journey from Dublin airport at 6am, were Ken Lindsay Irelands Methodist president saw us off. From there we flew to Newark to Houston and to Guatemala City. After over 24 hours travelling and many time zones, we were there!
Our first experience took place in Chiquimula with members of Christian aid. On our first night we attended a local Roman Catholic mass service where we were wonderfully welcomed. A day I'll never forget was our visit to a community out of Chiquimula who were benefiting from a Christian Aid project, Bethania. This project trained the people who relied on their crops on how to set up kitchen gardens on their land. They provide fertilisers and some plants. In these acts, Christian Aid is sticking to their policy of fixing the problem at its root. Simply giving the people food is not a lasting benefit; it takes simple things like training and fertilisers to do this. The people appreciate the pride left with them, they are strong and independent. They don't need us to sort them, just support and provide their tools. A lady we talked to also emphasised that the training has enabled her to connect to other woman in her area and made her life caring for her family less isolating. One man, Albeuto told us how his family only have enough to eat because of the project and praise God every day for it. He was so humble and thanked us for taking interest in him and his situation. He asked us to spread the word of the brilliant work of Christian aid and encourage people to keep supporting it. Without the continuation of this project, the progress in these families' lives will deteriorate and their encouraging hope will be wiped. Albeuto's wife, Maria especially impacted me. She shared of the communities work together occasionally to buy eggs. She said it was Gods command that they helped their neighbours. This reminded me how important this project was. It wasn't set up to be supported under wishful hope for an equal world; it was set up under influence of Gods command to us.
Following our visit to the families, we got to visit the Bethania mal-nutrition clinic. Numbers admitted to the clinic can depend on the season and the harvest. Most children spend 3 months at the clinic before they are able to return home. Families are then advised how to feed their children a more balanced diet. We only met two children at the clinic, one aged 2 and the other 4. The 2 year old had to be helped to walk; it was shocking to see how much diet can impact a child's health. The clinic has a medicine room and dentist training where people can come at a reduced charge. A wall is dedicated to pictures of patients as they are admitted and then from a home visit months after being discharged. Seeing the effect of the treatment shows how important the project is. The secretary who was showing us around agreed that the clinic has seen a decline of numbers since the introduction of Bethania's kitchen gardens to families and since they have been trained on the importance of balanced diets.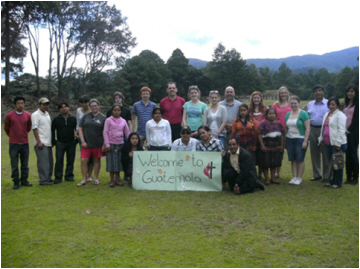 Once we left the Christian Aid crew at Chiquimula, we travelled to Chichicastenango to meet the Josemn Methodist group. We became very attached to this group as we spent time with them and got to know them.
On our first day with the youth we taught them the techniques we have found effective in our meetings back home. In return they did the same for their church. We both did in turn a culture demonstration where we experience the main aspects of each other's cultures. This was a great icebreaker and led to us teaching them waves of troy which they loved! We later taught children in the middle of a church service and recently on Facebook I saw photos from Josemn's anniversary and they were teaching a huge group how to play it.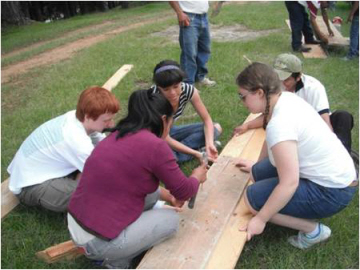 Many large gatherings including the Methodist conferences in Guatemala are held at Camp Lamoa. This building can sleep over 100 people when needed, which left them with a shortage of toilets. We also built an entrance gate for the camp, tall enough to allow buses through. These three days ended with a lot of blisters and aching muscles for me, but I found it very rewarding being able to serve in a practical way although this wasn't the overall aim of the trip.
After a morning and afternoon of hard work on the building site, we visited an orphanage very close to Camp Lamoa. I expected this trip to leave me having lots of sad pity for the children there. Yes, it was a very basic building and the situations in which the children were abandoned were sad but there was such an element of hope for them there. One toddler had been seriously ill with a brain tumour and doctors said she would never walk, yet she was operated on and ran after us giggling during our visit. Such a God story! We also met a baby who had been illegally adopted and so was waiting in the orphanage until the adoption was cleared. American adoptions were also regular from the orphanage. 2 nanny's slept in the girl's room to aid the babies and see to any other needs of the children.
The eldest boy enrolled was 18 and we didn't get to meet him as he was at school training to be a teacher. In his example, although he was missing out on a family for now, because of the orphanage he was able to stay at school past 11- the normal age to leave. He will now have a fantastic job and be able to start a fresh and hopefully start a family of his own which he will be able to support.
The Guatemalan government don't support any orphanages due to the number of street children that would involve catering for. So orphanages such as the one we visited rely on private donations from the likes of churches. This was an orphanage the Methodist church has taken on to support.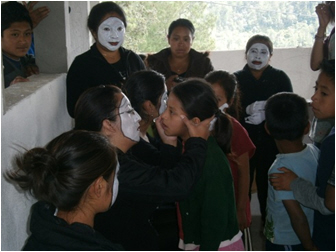 During our time we held youth and children's services in a local church where we were amazed by the numbers attending and the effort taken to decorate their church building with things like used polythene cups cut into spirals - very impressive! When we visited Quan's clinic (a minister from the executive) we also took the service in the temple. It was lovely to spend time with the excited children and teach them games, hand out balloons and paint their faces.
On a free afternoon we visited more Mayan ruins with Josemn where Quan guided us through tunnels the Mayans had dug to hide their warriors when Spanish invaders came.
During our time at Quan's clinic we visited local families who Quan wanted us to encourage back to church. It was great to see their humble homes and how the woman worked as we spoke on their products for the market. A few of us shared our testimonies' and we shared Gods love for them. They were amazed that we came to see them and felt so special to have foreigners at their homes! Their thankfulness really touched me and gave me pride to be representing the Irish church.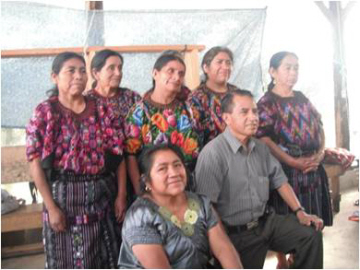 A big shock for me was on our return to Camp Lamoa we left the wife and child of Angel (the president of Josemn) off at their home. It had been easy to think that he and the others from Josemn were equal to us as we worked together and visited poverty together. However the reality was that they were in the same position as those we visited. Life was as much of a struggle for them as the others in Guatemala's rural corners. Angel and Augusto (another worker in Josemn) both lost their fathers in the civil war. This meant they could not attend school at all, while the normal is until 11 years old. Both volunteer at Josemn and Angel also trained at Quan's clinic so he can be called upon by someone ill for natural help as hospitals are so far and too expensive. However this training is not recognised by the government and is also voluntary. Although Angel devotes the majority of his time to the church and healthcare of his community, he has no income and also relies on his families land, although he has not time to work on it. Commitment such as his takes real unity of families and reliance on God for good harvest.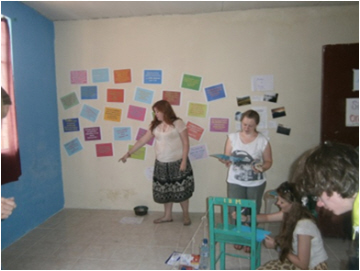 The Ruth and Naomi Project was set up after a church was bombed in the Guatemalan civil war. Many husbands were killed, so their widows asked the church for support. The church was unable to keep financially supporting the woman, so instead they were given threads. This led to the women making to sell, supporting themselves. The project still runs with the same aim for widows. The project gives the women a new family as they have fellowship and work together.
Before leaving Camp Lamoa, we set up a 'prayer room' in one of the small rooms. We each set up a station which we could enable the Josemn group to pray for their community/church/families and selves. Each station involved a different physical action which enabled them to pray creatively. We explain how to use the room and left it set up to be used by the Guatemalan youth as we left them.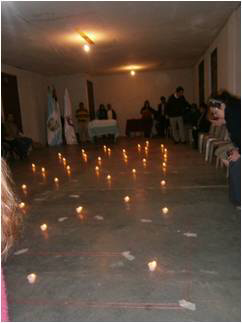 For our tearful farewell we shared speeches, thank you, gifts and many hugs! We had communion Guatemalan style and thanked God for his influence during our time there. Something Josemn set up for us was a 'labyrinth walk' which allowed us to connect with God before we left and reflect on all we had learnt and wanted to portray when we returned to Ireland.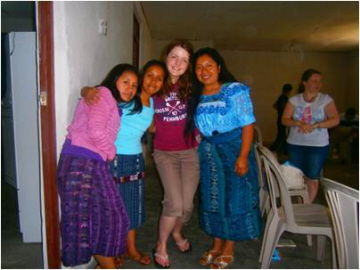 I have learnt that relying on God for our daily bread strengthens our relationship and reliance on Him. Unfortunately due to how fortunate we are, we tend to keep our daily bread in the freezer instead. I have been inspired by the thankfulness of the Guatemalan culture and the generosity of its people. I have learnt that as much as we try to control our life's direction, it is not ours to control. Simple faith is often the answer to complicated questions we can ask and discipline to Gods word instead of selfish excuses can benefit us as much as others around us.
I would like to thank you for your support as I prepared for this challenging trip. Without your generosity it could not have happened. I would ask you to remember Guatemala in your prayers as they rely on Gods goodness for their comfort.