EVENING OF FASHION & MUSIC

On Friday 25th March, 2011 the parish presented an evening of Fashion & Music. Male and female (parishioners) displayed beautiful and stunning clothes from S.D.Kells, Enniskillen. Mrs Eva Baxter was commere.
We were entertained by the Primary School choir and the Church choir - they both sang a repertoire of lovely songs. At the interval, the Mothers' Union treated us to a delicious supper of tea, homemade scones and shortbread.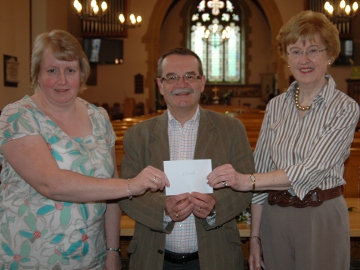 Mr Bill Wilson auctioned outstanding floral displays arranged by Mrs Mary Maxwell and friends. The proceeds of this auction and the sale of a DVD by Mr Norman Love will be handed over to Horizon West Children's Hospice. The money collected from the sale of tickets will be used for parish funds. Cheque for £902 was presented to Derrick Wilson, Horizon West Childrens Hospice from Magheracross Parish Church, Ballinamallard - proceeds of auction of flowers and sale of DVDs from the evening of Fashion and Music.
The Archdale Hall was packed to capacity, and the audience had a most enjoyable evening.